Something about the realities we share
and the realities we don't

Part 3

Rut Karin Zettergren / Matilde Westavik Gaustad
September 2021



Photo credit: Lena Bergendahl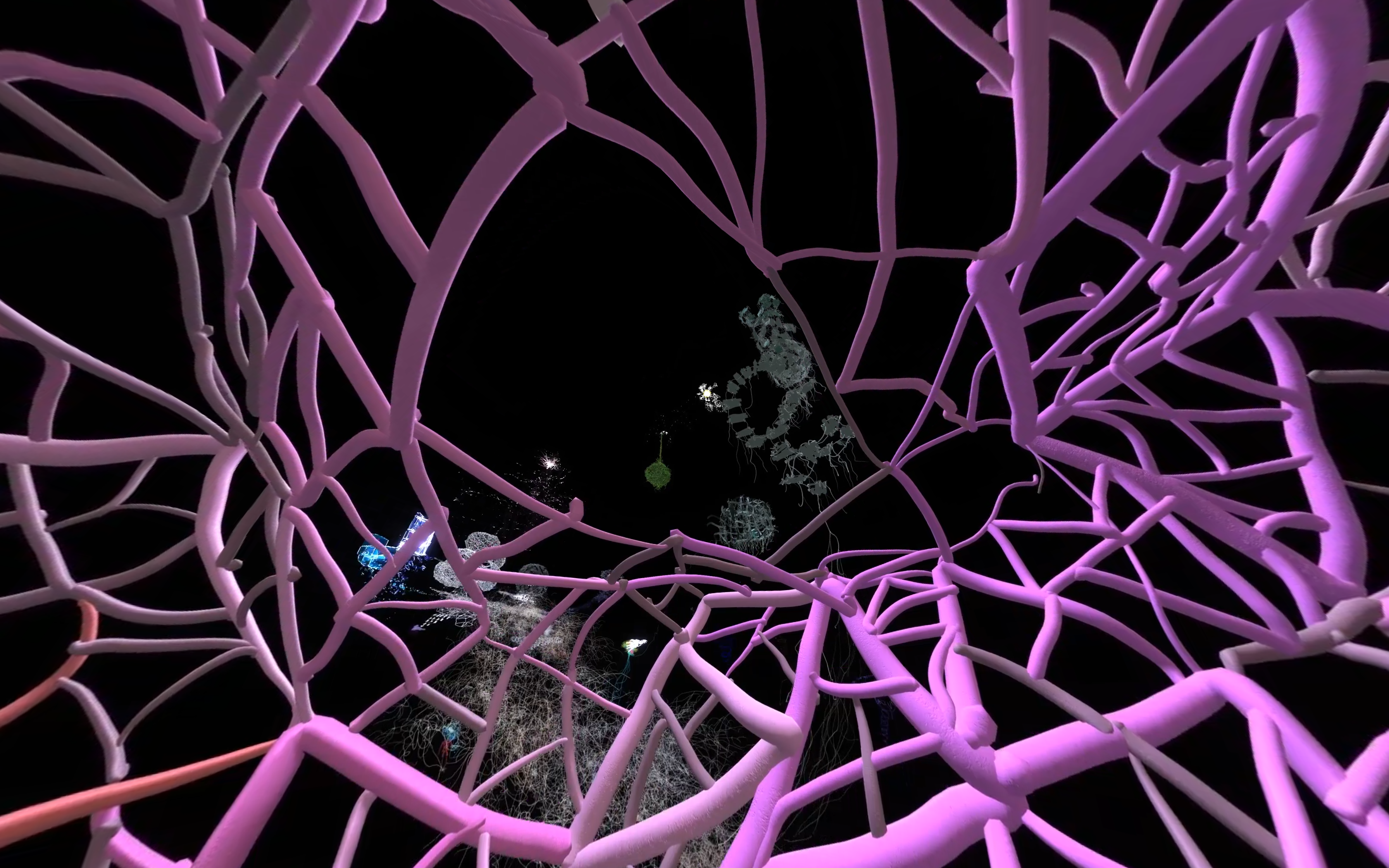 Since digitalisation and the advent of the Internet we have shared our realities and the footprints we make, as humans, between what happens online and what happens in the physical and analog world. There are bridges between these areas; you can sit by your computer and still be aware of your surroundings. Or you can sit under a tree in the rain and still be conscious of how your phone vibrates against your body when you receive a message. The vibrations of the different areas bind us together and sometimes resonate, deliberately or by chance. The exhibition series: 'Something about the realities we share and the realities we don't' is divided into three parts and will explore these bridges and resonances.
Celsius Projects 2021
Rut Karin Zettergren is showing a VR installation and feather bed. What is within us we see at night. In the lit rooms of civilization, some exclusive pets still slumber undisturbed. Among humans and cyborgs, only dreamers like me are allowed to disconnect completely and float away in sleep. In a sleep-disordered future where the hyperactive 24/7 society has gone a step further, only dream-oracles can sleep. Their dreams are recorded and create 'Nightboon' : surrealistic experiences that the technologically advanced consume to feel human. The work is part of 'Dreaming the Technological' , Rut Karin's ongoing exploration of how technology affects sleep and dreams. In this exhibition, you can sit down on a bed of feathers, sink into deep
speculation, take in depictions of frozen fragments from dreams via technology, or simply rest if you are tired. Rest, you sleep-drunk drowsy dream-oracle, sink into the dream mystery of hibernation. Stagger sleepily through the dream world. Lazy, indolent, foggy, lingering in a dreamlike existence. A dreamy dream-doctrine for the sleepless dream-technology of the dream-sick. Snooze in the feather bed. Sleep in peace, dream up a dreamlike dream-image in this hypnagogic dream-play.

Rut Karin Zettergren's work often begins as an investigation into historical events or speculations about the future. In recent years, she has been influenced by theories and histories around cyber and cyborg feminism, science fiction, technological heritage and the construction of modernity. Her works take the form of drawings, performances, video, spatial installations, VR and online presentations. Rut Karin often works in groups and collaborations such as 0s+1s Collectives that focus on techno feminism and investigate the military and patriarchal heritage of technology and Whyte&Zettergren that use performance to look into entangled trans-Atlantic cultural heritages. Zettergren has presented works at institutions as Mänttä Festival, Sinne, Titanic gallery (FI), Barbican Centre, FACT Centre, Arnolfini (UK) Oberhausen Int. Film Festival, Städtische Galerie Bremen (DE), Havana Biennale (CU) Göteborgs Konsthall, Visby Konstmuseum, Södertälje Konsthall, Tensta Konsthall, Fotografiska Museet and Galleri 54 (SE).
At Celsius Projects Matilde Westavik Gaustad is showing 'Nurturing, Docile And Eager To Please', a project consisting of hand woven textiles and video based on the Røldal-Suldal hydropower plants in Norway. The architects Geir Grung and Georg Greve introduced a distinct brutalism when building these 8 different power plants in the 60's. The textiles are based on the Middyr hydropower plant, and is a fragmented version in wool and cotton, one-to-one scale. Gaustad is showing one of the 14 different textiles. Norsk Hydro ASA, one of the worlds largest aluminum companies, has directed an industrial development that has made a clear mark on the landscape, the architecture and the people living in the area. The videos are based on material Gaustad collected at the small village Nesflaten, the different power plants and the landscape around them.

Matilde Westavik Gaustad (b. 1987) lives and works in Trondheim. She is a visual artist who holds an MFA from The Royal Danish Academy of Fine Arts (2016). Gaustad works with hand woven textile and video, focusing on the strange and sometimes unpleasant aspects of the relationship between humans, animals and technology. Her work has been shown recently at Kunstmuseet Nord-Trøndelag (NO), Babel visningsrom for kunst (NO), Nils Aas Kunstverksted (NO), Kunsthal Charlottenborg (DK) and BOA - Billedkunstnerne i Oslo og Akershus (NO).
'Something about the realities we share and the realities we don't'
was made possible with generous support from:
---
Celsius Projects, Celsiusgatan 45, 212 14 Malmö